12V to 220V converter
Neuf
The Beeper ME133 converter is ideal for everyday use.
Thanks to its 4 USB ports and 2 220V sockets, it can charge any electrical product with a consumption of less than 200W: computers, tablets, phones, scooters, game consoles, cameras, fans, televisions, monitors, DVD players, etc.

Description
Discover the 200W 12V to 220V Beeper converter
With a power of 200W, our converter allows you to convert the voltage of a 12V direct current vehicle into 220V alternating current power via the vehicle's cigarette lighter socket.
Why choose our converter ?
This converter is ideal for all drivers, without exception, to recharge or use while driving :
- Computers, tablets, phones, etc.
- Electric bikes and scooters in the boot of the vehicle
- All electronic devices: cameras, etc.
- Small household appliances under 200W
The advantages of our converter
Ultra practical

Equipped with 4 USB ports (2.1A each) and 2 international 220V sockets, the Beeper converter allows you to connect and charge several devices at the same time, making your life easier on the move.

Its operation is ultra simple :
- Connect the converter to your cigarette lighter socket
- Press the ON/OFF button to switch on the converter (the LED indicator will change from red to green)
- Connect the device of your choice to the converter
- After charging, disconnect the device from the converter
- Press the ON/OFF button to deactivate the converter, then unplug it from the cigarette lighter socket
Universal and Compatible
Very easy to use, the Beeper converter works with all electronic devices and small household appliances with a power rating of less than 200W.

It is therefore ideal when going on trips or holiday to power and recharge your phones, computers, games consoles or cameras without problem. 
Warning: It will not work on products that use too much energy, such as kettles, hairdryers, etc., and will go into security mode in case of connection.
100% secure

The Beeper converter has a built-in fan prevent overheating and to ensure that the device works optimally and has a long life.
Caution: It is normal for the converter to become hot during use. The built-in fan is there to ensure its proper operation and to preserve the internal components.
We recommend that you avoid placing the converter in direct sunlight or near heat sensitive materials or products.

The converter has a temperature control system, which controls the speed of the built-in fan. 
The fan starts to run as soon as you use the converter. It runs at low speed during normal operation and then switches to high speed when the converter reaches a high temperature.
Optimal quality
Designed with high quality components, our Beeper converter offers optimal performance for everyday use.
The converter is protected against low voltage and automatically turns off when not in use. However, it is recommended to disconnect it when you are not using it.
In addition, for optimal performance, we recommend that you use less than 80% of the output power.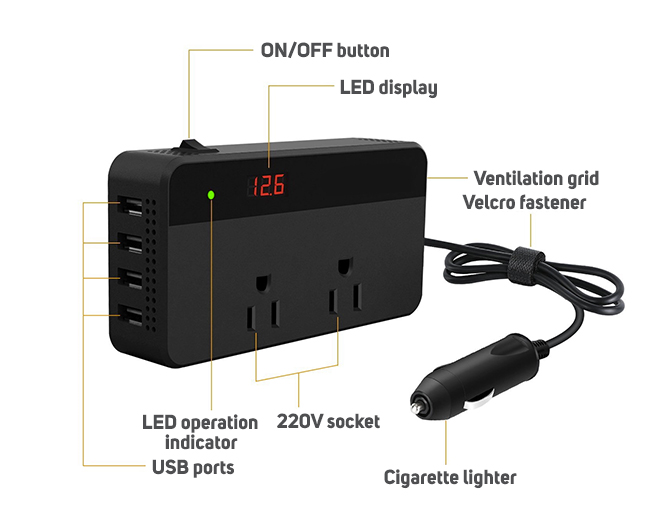 The LED at the top left informs you about the operation :
- Green LED = Product in operation or standby
- Red LED = Security mode
- LED off = No power supply or defective product 
Technicians who listen to you

Based in our premises (near Lyon), our technical team is at your disposal to help you in case of question about the use of your Beeper converter or in case of technical problems.
Finally, your product benefits from a 3-year guarantee.*
*See terms in our GASSC.
Related articles on blog
No related article on blog
Top